The bid to cover was also solid, jumping to 2.655 from 2.604 in July, and the highest since May (2.690), which in turn was the highest since March 2020.
Finally, the internals were also impressive, with Indirects awarded 75.7%, well above last month's 70.9% and the six-auction average of 66.7%. And with Directs awarded 15.70%, Dealers were left holding on to just 8.6%, the second lowest on record with only May 2022 lower (at 6.4%).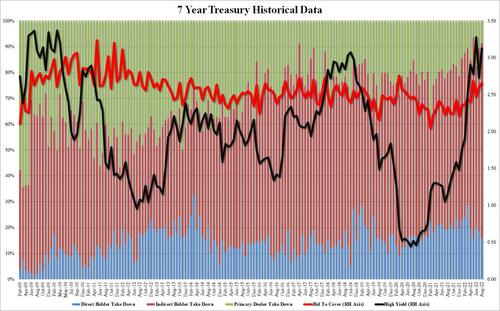 Overall, a blockbuster auction which confirmed that at least in the bond market, nobody is afraid of a hawkish Powell surprise tomorrow (or if he does surprise, it will only accelerate the recession), and one which helped send 10y Yields, and the entire curve, down to session lows.